In Libya, the man who would avenge Amb. Stevens
Fahed Bakoush shot some of the last footage of US Ambassador Christopher Stevens. He and other young activists have since help oust a violent militia from Benghazi.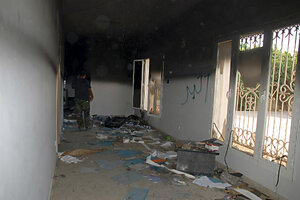 Ibrahim Alaguri/AP/File
The camera captured a clamor of voices, a crush of bodies in a corridor, and then the blond hair and white T-shirt of a man lying on the floor.
Amateur videographer Fahed Bakoush didn't know it then, but the blond man, Christopher Stevens, was about to become the first US ambassador killed while on duty in more than three decades.
The attack on the US consulate in Benghazi last month was, for Bakoush, a call to action. Part of a young generation of activists who cut their teeth in last year's revolution, he was spurred to redouble his efforts to help build a stable country.
Ambassador Stevens's death, a result of the consulate attack, has left Washington focused on the fear that militant Islamists are gaining a foothold in post-Qaddafi Libya. Bakoush says armed groups of all stripes are holding Libya back. In the wake of the attack, he helped organize demonstrations that gave new voice to Libyans' growing weariness of guns and instability.
At one such demonstration, the anger directed toward a local militia was so fierce that the group withdrew from its compound without a fight.
"I want to see political parties, not militias with guns," says Bakoush, 21.
---