Peace seems close for Philippines and rebel Muslims
A peace agreement, to be signed later this month, will give the Muslim minority in the Philippines an autonomous region in the south. The agreement is significant after 40 years of conflict, and 15 years of periodic negotiations with Muslim rebels.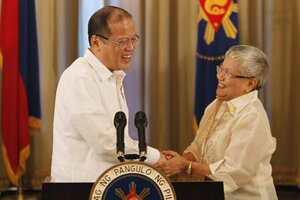 Cheryl Ravelo/Reuters
Philippine President Benigno Aquino III announced Sunday that his government has reached a preliminary peace deal with the nation's largest Muslim rebel group in a major breakthrough toward ending a decades-long insurgency.
Aquino said the "framework agreement" — a roadmap for a new autonomous region for minority Muslims in the predominantly Roman Catholic nation's south — was an assurance the Moro Islamic Liberation Front insurgents will no longer aim to secede from the country.
The agreement, to be signed Oct. 15 in Manila, spells out general principles on major issues, including the extent of power, revenues and territory of the Muslim region. If all goes well, a final peace deal could be reached by 2016, when Aquino's six-year term ends, officials said.
"This framework agreement paves the way for final and enduring peace in Mindanao," Aquino said, referring to the southern Philippine region and homeland of the country's Muslims. "This means that the hands that once held rifles will be put to use tilling land, selling produce, manning work stations and opening doorways of opportunity."
He cautioned, however, that "the work does not end here," and that the two sides still need to work out the accord's details. Those talks are expected to be tough but doable, officials and rebels said.
Rebel vice chairman Ghadzali Jaafar said the agreement provides a huge relief to people who have long suffered from war and are "now hoping the day would come when there will be no need to bear arms."
---