Israel strikes Gaza after exchange of air strikes Sunday
An Israeli air strike against Palestinian militants wounded eight bystanders and prompted Palestinian retaliation Sunday. Israel struck targets in the Gaza Strip Monday.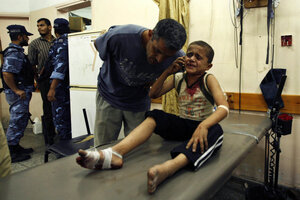 Ahmed Zakot/Reuters
Israel said it struck targets in the Gaza Strip on Monday after Palestinian militants fired rockets at southern Israel, in what they said was a response to an Israel air strike on Sunday that wounded two militants and eight bystanders.
Sunday's Israeli air strike was aimed at two Palestinian militants, one of whom was critically wounded. The armed wing of Hamas, the Islamists who control the Gaza Strip, said it joined in Monday's rocket attack along with the Islamic Jihad group.
---