Mexico accuses China of breaking world trade rules
Mexico issued its fourth World Trade Organization complaint against China, claiming China gives itself tax breaks and other deals. Mexico and China are major competitors in clothing and textiles.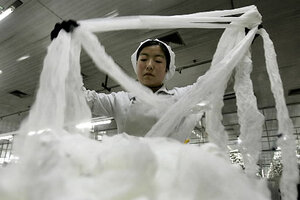 Eugene Hoshiko/AP/File
Mexico has accused China of breaking World Trade Organization rules by giving tax breaks and other favorable deals to its own clothing and textile businesses, the global trade body said on Monday.
Mexico filed a complaint with the WTO saying Beijing was effectively subsidizing Chinese companies in those sectors by exempting them from income taxes, value-added taxes and municipal taxes, the organization said in a statement.
---