New leadership in China, but same old decision-making problems
China's transition to new leadership may portray a decisive nation to the rest of the world, but internally Chinese politics often make policy decisions a slow-going process.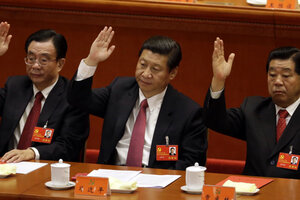 Lee Jin-man/AP
Months of sharp behind-the-scenes jostling reach a climax Thursday with the announcement of a new Chinese leadership that almost regardless of its makeup is likely to be much like the one it replaces: divided, deliberative, and weak.
All but officially announced, Xi Jinping is expected to head the new leadership as Communist Party chief, joined by Li Keqiang, the presumptive prime minster, in a choreographed succession that began five years ago when the two were anointed as successors. Alongside them at the apex of power, the Politburo Standing Committee, will be a handful of senior politicians drawn from top positions in the provinces and bureaucracies.
Their ascent was nudged along Wednesday when a weeklong party congress closed by naming Xi, Li and the other leading candidates to the Central Committee, a 205-member body which appoints the new leadership Thursday. Left off the list was Hu Jintao, who is retiring as party chief after 10 years. A top general told reporters that Hu is also relinquishing his sole remaining powerful post, as head of the military, a significant break from the past that would give Xi leeway to establish his authority.
Leadership lineups typically strike a balance between different interest groups in the 82 million-member party. None of new leaders owe their positions to Xi, but to other political patrons. Decisions are made largely by consensus, forcing Xi to bargain with his colleagues who have their own allegiances and power bases. Party elders, with Hu being the newest, exert influence over major policies through their proteges, further constraining Xi.
While China's leadership may have an image in the rest of the world as decisive and all-powerful, the reality is that decision-making tends to be a slow-going affair.
---