Why the Church of England rejected female bishops
Archbishop of Canterbury, Rowan Williams said the vote against female bishops was 'not intelligible' to the British or global public. The proposal was passed by the bishops and priests, but not by the Church of England's laity.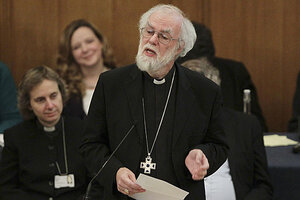 (AP Photo/PA, Yui Mok, Pool)
The Church of England's governing body blocked a move Tuesday to permit women to serve as bishops in a vote so close it failed to settle the question of female leadership and likely condemned the institution to years more debate on the issue.
On Wednesday, Britain's Prime Minister David Cameron told the Church of England to "get on with it" and reverse the decision now, not five years from now.
And the Archbishop of Canterbury, Rowan Williams, said on Wednesday: "We have – to put it very bluntly – a lot of explaining to do," he said. "Whatever the motivations for voting yesterday … the fact remains that a great deal of this discussion is not intelligible to our wider society. Worse than that, it seems as if we are willfully blind to some of the trends and priorities of that wider society."
RECOMMENDED: Seven women who shaped the world in 2011
The General Synod's daylong debate Tuesday ended with the rejection of a compromise that was intended to unify the faithful despite differing views on whether women should be allowed in the hierarchy. But backers failed to gain the necessary majority by six votes.
"There is no victory in the coming days," said Rev. Angus MacLeay. "It is a train crash."
The defeat was a setback for Archbishop Williams, who retires at the end of December, and his successor, Bishop Justin Welby. Both had strongly endorsed a proposed compromise that would have respected the decision of those who objected to the ordination of women bishops.
---