Did Syria drop cluster bombs on a playground near Damascus?
Syrian jets hit a playground outside of Damascus with cluster bombs, killing 10 children, according to Syrian opposition activists. A video purports to show the carnage. Syria denies that it uses cluster bombs.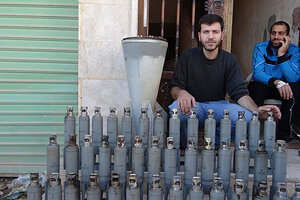 REUTERS/Qais Al-Taftanazi/Shaam News Network/Handout
A Syrian government air strike on a rebel-held village near Damascus killed 10 children on Sunday as they played outdoors, opposition activists said, and video footage showed residents collecting young bodies torn by shrapnel.
The children went out after a lull in fighting in Deir al-Asafir, a village 12 km (8 miles) east of Damascus, when fighter jets struck, activists and residents said.
Video footage taken by activists showed the bodies of two young girls, one wearing purple, the other red, on the street in the village, with wounds to their neck and head. A sobbing woman picked up one of the girls up and hugged her lifeless body.
RECOMMENDED: A window on war at the ground level in Syria
Another two dead boys, hit in the head and face, were shown on the backseat of a car. Men picked up the bodies of two other children while a larger body lay next to the front wheel of a vehicle.
"None of those killed were older than 15 years old. There are two women among 15 people wounded, mostly hit as they were inside the courtyards of their houses," said Abu Kassem, an activist in the village told Reuters.
"There were no fighters inside Deir al-Asafir when the bombing occurred. They operate on the outskirts. This was indiscriminate bombing," he said.
Abu Kassem said the munitions dropped by the fighter jets were cluster bombs. Other footage showed a row of what appeared to be unexploded small bombs.
"We collected 70 of these so far," one man said.
---