Satellites show more activity at North Korean missile site
Experts believe North Korea may be preparing a long-range ballistic missile test, due to an increase in people, trucks, and equipment at a missile launch site.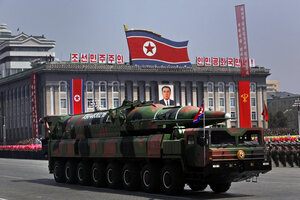 Vincent Yu/AP Photo/File
A new satellite image shows a marked increase in activity at a North Korean missile launch site, pointing to a possible long-range ballistic missile test by Pyongyang in the next three weeks, according to satellite operator DigitalGlobe Inc.
The imagery was released days after a Japanese newspaper, the Asahi Shimbun, reported that U.S. intelligence analysts had detected moves that were seen as preparation by North Korea for a long-range missile launch as early as this month.
---