Egypt's charter headed for approval, but troubles loom
The close of Saturday's voting makes it likely that the Islamist-back new constitution will be approved.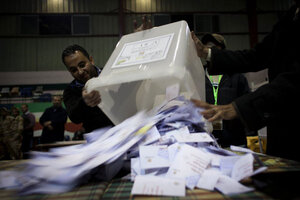 Nasser Nasser/AP
Egypt's Islamist-backed constitution headed toward likely approval in a final round of voting on Saturday, but the deep divisions it has opened up threaten to fuel continued turmoil.
Passage is a victory for Islamist President Mohammed Morsi, but a costly one. The bruising battle over the past month stripped away hope that the long-awaited constitution would bring a national consensus on the path Egypt will take after shedding its autocratic ruler Hosni Mubarak nearly two years ago.
Instead, Morsi disillusioned many non-Islamists who had once backed him and has become more reliant on his core support in the Muslim Brotherhood and other Islamists. Hard-liners in his camp are determined to implement provisions for stricter rule by Islamic law in the charter, which is likely to futher fuel divisions.
His liberal and secular opposition, in turn, faces the task of trying to organize the significant portion of the population angered by what they see as attempts by Morsi and the Brotherhood to gain a lock on political power. The main opposition group, the National Salvation Front, said it would now start rallying for elections for the next lawmaking, lower house of parliament, expected early next year.
"We feel more empowered because of the referendum. We proved that at least we are half of society (that) doesn't approve of all this. We will build on it," the Front's spokesman, Khaled Daoud, said. Still, he said, there was "no appetite" at the moment for further street protests.
---