The world begins celebrating 2013
Australia and Asian nations are celebrating the New Year in style, from fireworks in Sydney and Hong Kong to a street party in Indonesia. Around the world, people are greeting 2013 with optimism.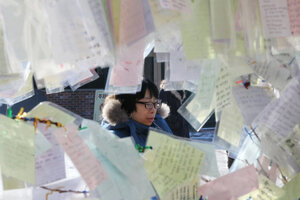 Ahn Young-joon/AP
Sydney's skyline erupted with tons of exploding fireworks as revelers cheered in the new year from the city's crammed harbor in the world's first major celebration for 2013.
The enthusiastic welcome to 2013 was continuing on a grand scale across Asia.
Increasingly democratic Myanmar is having a public countdown for the first time. Jakarta plans a huge street party befitting Indonesia's powering economy.
The buoyant economies of the Asia-Pacific are prepared to party with renewed optimism despite the so-called fiscal cliff threatening to reverberate globally from the United States and the tattered economies of Europe.
Celebrations were planned around the world, with hundreds of thousands expected to fill Times Square in New York City to watch the drop of a Waterford crystal-studded ball.
Major cities across austerity-hit Europe were to burn off part of their battered budgets in spectacular fireworks displays, although some municipalities — including the Cypriot capital, Nicosia — canceled their celebrations in light of the economic crisis. Nicosia said 16,000 euros ($21,000) saved from the canceled event will be given to some 320 needy schoolchildren.
---