Obama's pivot to Asia? Middle East will still demand attention in 2013.
The popular unrest of the last two years has left the Middle East volatile as 2013 kicks off.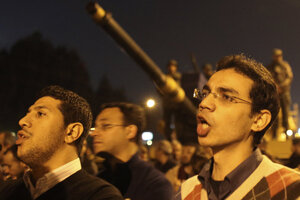 Khaled Abdullah/Reuters
Nearly four years ago, President Barack Obama addressed a packed, enthusiastic crowd at Cairo University and promised a "new beginning" between the United States and the Muslim world.
In that speech, Mr. Obama outlined a vision for a new era of economic cooperation in the Middle East, one of steadfast US support for democracy, and of reset priorities.
"I've come here to Cairo to seek a new beginning between the United States and Muslims around the world, one based on mutual interest and mutual respect," he said then.
While Obama ended the war in Iraq on a schedule provided to him by his predecessor, George W. Bush, many of the promises in that speech went unfulfilled. The Guantánamo Bay military prison was never closed. Progress on peace between Palestinians and Israelis was not made. The promised economic development of Afghanistan, beset by a war that Obama now looks set to end in 2014, never took root.
Nevertheless, four years later, he's got his new beginning – not by his own hand, and not the one he would have either imagined or wanted when he made his series of stirring promises in Cairo.
---