Argentine president wants to negotiate with Britain over Falkland Islands
Cristina Fernandez has written to British Prime Minister David Cameron about starting talks to settle the dispute over the South Atlantic island chain.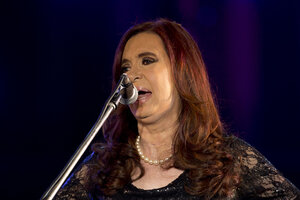 Victor R. Caivano/AP/File
Argentine President Cristina Fernandez called for talks with Britain over the disputed Falkland Islands in an open letter to Prime Minister David Cameron published in British newspapers on Thursday.
Britain and Argentina fought a 10-week war in 1982 over the remote South Atlantic islands, which are part of Britain's self-governing overseas territories.
Fernandez has marked the 30th anniversary of the conflict with a sustained diplomatic campaign to assert Argentina's sovereignty claim.
The Falklands cause is a popular rallying cry in Argentina but the stakes have also been raised by oil exploration in the waters around the islands.
In her open letter, Fernandez accused Britain of breaching United Nations resolutions urging the two countries to negotiate a solution to the dispute over the Falklands, known in Argentina as Las Malvinas.
"The question of the Malvinas Islands is also a cause embraced by Latin America and by a vast majority of peoples and governments around the world that reject colonialism," Fernandez wrote.
---