Wildfires, aided by hot conditions, rage across southeast Australia
With temperatures soaring above the 100 degree mark, firefighters battle the heat as well as high winds. National parks have been evacuated, as well.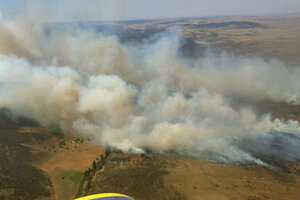 New South Wales Rural Fire Service/AP
Firefighters battled scores of wildfires Tuesday in southeastern Australia as authorities evacuated national parks and warned that hot, dry and windy conditions were combining to raise the threat to its highest alert level.
Temperatures soared to 113 degrees Fahrenheit in some areas.
No deaths have been reported, although officials in Tasmania were still trying to find about 100 people who have been missing since last week when a fire tore through the small town of Dunalley, east of the state capital of Hobart, destroying around 90 homes. On Tuesday, police found no bodies during preliminary checks of the ruined houses.
"You don't get conditions worse than this," New South Wales Rural Fire Service Commissioner Shane Fitzsimmons said. "We are at the catastrophic level and clearly in those areas leaving early is your safest option."
Catastrophic threat level is the most severe rating.
Wildfires are common during the Australian summer. The combination of soaring temperatures and dry, windy conditions since Friday have sparked fires that burned 50,000 acres of forests and farmland across southern Tasmania.
In New South Wales, Australia's most populous state, the fires scorched 74,000 acres. All state forests and national parks were closed as a precaution and total fire bans were in place.
In Victoria state, where fires in February 2009 killed 173 people and destroyed more than 2,000 homes, officials said two people were treated for minor burns and four were treated for smoke inhalation.
Up to 20 properties in the town of Chepstowe west of Melbourne reportedly were hit by a fire, although it was too early to know the extent of the damage, a Victoria Country Fire Authority spokeswoman said.
---