Haiti looks to tourism as way forward
Still struggling to recover from the devastating 2010 earthquake, Haiti's prime minister declared it 'open for business.' Rather than depending on international aid, Haiti hopes to attract tourism and investments.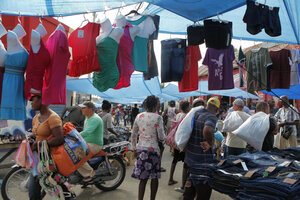 Melanie Stetson Freeman/The Christian Science Monitor
Haiti's prime minister says his country is hoping to attract high-end tourists and multinational investors — instead of constant aid handouts — so it can get on its feet after the devastating 2010 earthquake.
Prime Minister Laurent Lamothe said Saturday he recognizes that's an ambitious dream for a country where 52 percent of the people live below the poverty line and where infrastructure is desperately lacking.
Still, he pushed that concept — and a bid to build up Haiti's tourism industry — in meetings with CEOs this week at the World Economic Forum in Davos, Switzerland.
"Haiti is open for business," Lamothe said in an interview with The Associated Press.
Haiti still has huge humanitarian needs and little more than half of the $5.3 billion in aid promised after the earthquake has been disbursed.
Lamothe, however, said "we are not going to depend on handouts indefinitely."
Yet humanitarian groups are unlikely to go away, for they have long provided basic services to Haitians because the government can barely do so.
---