IOC head Rogge to meet with head of wrestling association
Jacques Rogge, the head of the International Olympic Committee, will sit down with the president of wrestling's governing body to talk about ways to keep wrestling in the 2020 Olympics.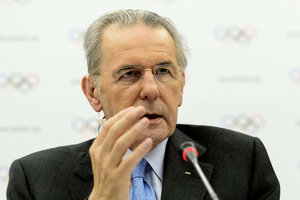 Laurent Gillieron/Keystone/AP
IOC President Jacques Rogge will meet with the head of wrestling's governing body to discuss ways the sport can fight to save its place in the 2020 Olympics.
The IOC executive board removed wrestling from the program of the 2020 Games on Tuesday, cutting it from the list of 26 sports at last year's London Olympics.
The decision, which still must be ratified by the full IOC in September, has been widely criticized by wrestling organizations around the world.
Rogge said Wednesday he's been contacted by Raphael Martinetti, the president of international wrestling federation FILA, and was encouraged by the sport's determination to remain in the games.
"We agreed we would meet at the first opportunity to have discussions," Rogge said at a news conference at the close of a two-day board meeting. "I should say FILA reacted well to this disheartening news for them.
"They vowed to adapt the sport and vowed to fight to be eventually included in the 2020 slot."
Wrestling, which remains on the program for the 2016 Olympics in Rio de Janeiro, still has a chance to stay on the list for 2020 — if it manages to convince the IOC to reverse the board's decision.
---