World powers and Iran at a stalemate
After two days of talks over Tehran's nuclear program, the EU foreign policy chief said Iran and world powers remained far apart. A breakthrough deal will not be on the table.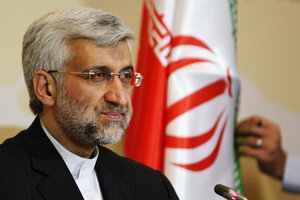 Shamil Zhumatov/Reuters
World powers and Iran remained far apart after ending two days of intensive talks on Tehran's nuclear program on Saturday, the European Union's foreign policy chief said, prolonging a stand-off that risks spiralling into a new Middle East war.
The failure to reach a breakthrough deal aimed at easing growing international concern over Iran's contested nuclear activity marked a further setback for diplomatic efforts to resolve the decade-old dispute peacefully.
Underlining the lack of substantial progress during the meeting in the Kazakh city of Almaty, no new negotiations between the two sides appeared to have been scheduled.
"Over two days of talks, we had long and intensive discussions on the issues addressed in our confidence-building proposal," EU foreign policy chief Catherine Ashton said.
---