Bo Xilai verdict will be announced Sunday morning
Bo Xilai will learn his fate Sunday, when a Chinese court delivers a verdict. The disgraced politician faces charges of bribery, embezzlement, and abuse of power.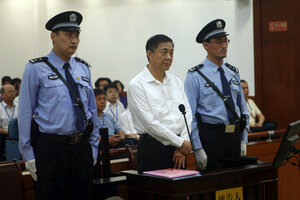 Jinan Intermediate People's Court/AP/File
A Chinese court announced that it will deliver a verdict Sunday against disgraced politician Bo Xilai on charges of bribery, embezzlement, and abuse of power in a case set in motion by his wife's murder of a British businessman.
The former Politburo member and Chongqing city party leader vigorously defended himself during his trial last month in the eastern city of Jinan, acknowledging mistakes in his leadership but admitting no guilt in the charges against him.
Prosecutors accused him of interfering with the investigation into his wife's murder of Briton Neil Heywood in November 2011, as well as other corruption uncovered by investigators. However, the case against him also was widely perceived as a result of his downfall in factional infighting ahead of China's leadership transition last fall.
The Jinan Intermediate People's Court said Wednesday on its Twitter-like Sina Weibo account that the verdict will be announced at 10 a.m. on Sunday, which will be a work day in China following a holiday.
In a sign of the event's importance and sensitivity, a hotel near the court that served as the venue for news conferences during Bo's trial is taking reservations only from accredited journalists through Monday, in an apparent effort to keep away members of the public, where Bo continues to command considerable support.
---