He teaches inner-city kids how to be smart about money
Douglas Coe has founded the Bulls and Bears summer camp, where kids can try being a stock analyst – and learn how to handle their own finances too.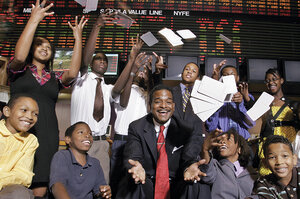 Susan Pfannmuller/Special to The Christian Science Monitor
Trading was fast and furious in August on shares of a little-known manufacturer of organic health foods. Market analysts, portfolio managers, and stock traders pored over earnings reports and financial data. Brokers scurried to fill buy-and-sell orders before the market closed.
Then came the news: Fires in Russia, floods in Pakistan, and a heat wave in the Midwest had sent prices on hard red winter wheat futures soaring in the trading pits of the Kansas City Board of Trade. Heavily dependent on wheat, shares in the health food company plunged.
Rest assured that your portfolio did not sustain a hit. The health food manufacturer was one of six fictional companies whose pretend shares were "traded" by 50 children attending the Bull and Bear Investment Camp in Kansas City, Mo.
Started by financial adviser Douglas Coe, the camp is designed to introduce young people to the basics of finance in a fun way.
"We have camps in our community and throughout America that train our children's bodies, and we need that," Mr. Coe says. "But we also need camps to train our children's minds."
---