She recruited Facebook friends to save Gulf Coast's hermit crabs.
When park ranger Leanne Sarco saw oil-covered hermit crabs on the Louisiana beaches, she started her own project to clean and save them.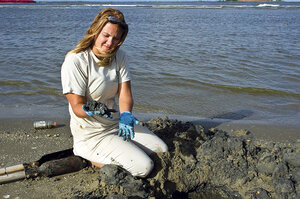 Shawn P. Carey/Special to The Christian Science Monitor
Leanne Sarco remembers the day she discovered oil in her lagoons. On the first day, a sheen appeared on the ocean water. The sheen grew thicker and wider, until by the end of the week it became clear that this wildlife preserve at Grand Isle State Park, where the Gulf of Mexico meets the fragile barrier islands of Louisiana, was in peril.
In the weeks following the April 20 explosion of a BP oil rig that sent some 172 million gallons of crude oil into the Gulf, federal, state, and local governments; wildlife organizations; university research labs; oil industry groups; and contractors drew up plans to solve the litany of complex problems created by the huge spill.
But Ms. Sarco, a park ranger, thought small. She decided her best contribution was to collect, wash, and release into safer waters hermit crabs, the most neglected creature in the area, according to Lisa Rodrigues, who teaches in the department of geography and the environment at Villanova University near Philadelphia.
Hermit crabs "may seem insignificant at first," but they clean the ecosystem by eating algae, which helps fish and bird populations thrive, Ms. Rodrigues says.
They also are a key part of the food chain, providing sustenance for larger creatures. "A loss of one species could potentially have a significant impact on the rest of the community," Rodrigues says.
Sarco's efforts are voluntary. The Louisiana Department of Wildlife and Fisheries did not mandate a rescue of the crabs. No one knew exactly how to save them from suffocating in the oil inside their shells.
---