Dominic Deng Diing, a refugee in the U.S., educates 3,000 children back in South Sudan
Dominic Deng Diing, who escaped the violence in Sudan, raises funds to help schoolchildren there.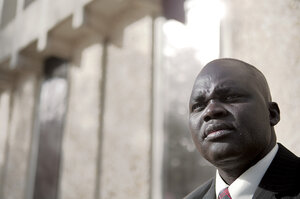 Keith Lane/Special to The Christian Science Monitor
Dominic Deng Diing's first teachers were his uncles, who sang the ABCs to the then 6-year-old as they undertook the painstaking walk from Sudan to Ethiopia in the mid-1980s.
Mr. Diing's brief foray into education was cut short when his uncles and brothers died of starvation during the trek, along with thousands of other "Lost Boys of Sudan," children who fled on foot from the civil war that raged for nearly 20 years.
But the significance of the early lessons stuck with Diing, now a resettled refugee living in Buffalo, N.Y. He earned his high school degree in Kakuma, a refugee camp in Kenya, and later completed undergraduate and master's programs in western New York. He's currently working toward a doctorate degree in education.
"He realizes that without education you have nothing," says Vince Angello, Diing's former business professor at Niagara University.
Diing is trying to spare more than 3,000 children in South Sudan from his experience. They now attend the two-year-old New Hope Primary School, a project of Diing's Buffalo-based nonprofit group Aid and Care for Africa.
Just 21 teachers and five administrators preside over the school. Students from 22 villages in Diing's home state of Aweil walk miles to reach the school, often with empty stomachs and the fear of meeting wild animals in forests they must cross through.
---