Walter Lewin is 'hands on' helping students grasp physics
Whether it's swinging on a pendulum or riding a rocket tricycle, the former MIT professor, now on YouTube, finds different ways to assist students as they study the laws of physics.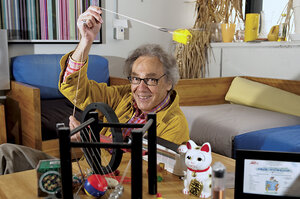 Joanne Ciccarello/Staff
Walter Lewin used to hand a daffodil to each of the 600 students in his physics class. It would be on the day he projected Maxwell's equations on the four walls of the lecture hall.
Marvel at these stunningly elegant descriptions of how electricity and magnetism are related – complete, beautiful, and filled with intrinsic beauty, he told them.
That's just one way he's made physics memorable. He's also swung a giant pendulum with a 33 lb. weight attached to it that on its return trip just missed smashing his face in by a fraction of an inch – all to prove the law of the conservation of energy (the weight can swing back no higher than the spot where it was released).
That bit of stage business earned Professor Lewin legendary status among his students and made him a Web video star with millions of viewers on YouTube and iTunes, as well as on the OpenCourseWare website at the Massachusetts Institute of Technology (MIT) in Cambridge, where Lewin taught for more than three decades.
"Mr. Wizard" has met the Internet.
Lewin has also been known to do other risky-looking things (but safe, he insists, if you understand physics). He's ridden that pendulum like a swing, piloted a rocket tricycle powered by a fire extinguisher, and turned cigarette smoke from blue to white by holding it in his lungs. His aim: Take examples from real life to make physics leap from textbook pages and become indelibly etched in students' minds.
Now retired from teaching, Lewin made a brief encore appearance last May at MIT before a packed lecture hall and 30,000 viewers live online. He's also turned his attention to writing a book about his life and career called "For the Love of Physics," with coauthor Warren Goldstein.
---