Muoy You, who escaped Cambodia's killing fields, now teaches self-respect and integrity
Muoy You has opened Seametrey Children's Village in Phnom Penh to help restore Cambodia's culture.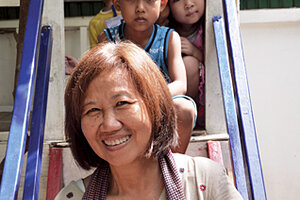 Tibor Krausz
For Muoy You, "the power of education" isn't an abstract concept. She's seen it transform the life of her family.
Her father was a bicycle repairman, and her mother an illiterate street vendor. Yet her four children are all university graduates. "They're high fliers," Ms. Muoy says.
One of her sons teaches aeronautics at the University of Washington in Seattle; another is working on a PhD in particle physics at CERN, the European Organization for Nuclear Research, in Geneva.
Muoy grew up poor in Phnom Penh, Cambodia, during the Vietnam War. "We lived in a squatters' shack, but I loved learning and I did well in school," she recalls.
In 1972 she won a scholarship to study in France. It would save her from Pol Pot's killing fields, where her parents and siblings were among the 2 million dead. She spent the next two decades in exile, raising a family and working as a teacher in Africa and the Middle East.
---