'Dr. Liza' heads a free clinic that helps Moscow's homeless and hopeless
From her clinic, Elizaveta Glinka and her volunteers give food, clothing, medicine, and other help to Moscow's homeless.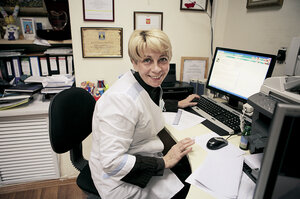 Galina Kuznetsova
Elizaveta Glinka quit her job at a medical clinic to start her own clinic and treat homeless people and seriously ill patients free of charge in Moscow.
Also a blogger and a charity activist, she's a doctor who gives hope to those who have lost it.
All three roles merge in this tiny lady. Every day she comes to a basement office on Pyatnitskaya Street in Moscow, the office from which her charity fund operates.
"I want to help patients who have no faith" that they can recover, says Dr. Glinka, or Dr. Liza, as she is known.
In 1986 she received a degree as an emergency physician from the First Moscow Medical State University. That same year she immigrated with her husband to the United States, but the couple later returned to Russia.
Her first experience in the charity field dates to 1999, when she started the first private hospice in Kiev, Ukraine. Eight years later Glinka created a charity fund in Moscow called "Just Help," which aids seriously ill patients, homeless people, and poor families.
Glinka and her volunteers give medications, food, clothes, and other goods to those who cannot afford them.
Several years ago she started a blog with the nickname "doctor_liza" to promote the activities of her organization. In 2010 she was named blogger of the year in the Russian Internet contest ROTOR.
"People often ask me why I am doing this. It's hard to explain. I just like this job," Glinka says.
---