Dina Fesler opens a unique school in Afghanistan
Dina Fesler went to Afghanistan to learn how to teach U.S. students about the country. Now she's opened a school there.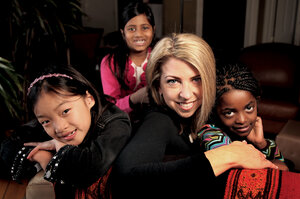 Brian Peterson/Special to The Christian Science Monitor
While growing up in the suburbs of Minneapolis, Dina Fesler never aspired to be a teacher, never mind the founder of a school. But when, after 15 years as a fashion designer, she and her husband, Brad Leonard, adopted a baby girl from China, her worldview expanded, and her career took a new turn.
Today, instead of women's clothing, Ms. Fesler designs innovative social studies courses for middle school students. As a result of that work, in 2011 she started a school in Afghanistan called Bridges Academy, a nascent project that brings together students from rival ethnic groups.
That she would take on such a huge task didn't surprise her admirers.
QUIZ: How well do you know Afghanistan? Take our quiz.
"Dina is one of those people who really believes she can make a difference in the world," says Kristi Holden, a homemaker and part-time art history professor in Northfield, Minn. She met Fesler in 2009 in connection with a fundraiser for Iraqi and Afghan children. "Not from a standpoint of grandiosity, but because she thinks it's the right thing to do. She's a really enthusiastic person, and her enthusiasm is infectious, so it's easy to get swept up in her vision and to want to try to help."
---