Ma Jun helps Chinese find out who's polluting and shame corporations into cleaning up
2012 Goldman Environmental Prize winner Ma Jun enlists ordinary Chinese to help clean up China's pollution.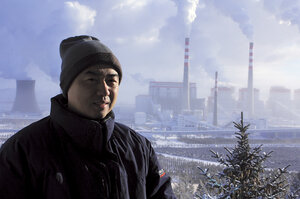 Goldman Foundation
In a country so vast and so foully polluted as China, it is hard to know where to start cleaning it up.
Ma Jun decided to start with people: properly informed people. And that strategy has turned his small nonprofit organization into China's most respected – and feared – public watchdog, which has brought some of the world's biggest companies to heel.
"The real No. 1 barrier to environmental protection in China is not lack of money or technology," says Mr. Ma, one of the country's best-known environmental activists. "It is lack of motivation. We need the public to provide that motivation. But they must be informed before they can participate in any meaningful way."
Weakly enforced environmental laws
Ma developed his environmental chops on the ground, exploring – and sniffing – China's grossly degraded and polluted waterways as he researched a book, "China's Water Crisis," that revealed for the first time just how grave the situation is.
But it was in the more rarefied atmosphere of Yale University in New Haven, Conn., where he spent a year as a visiting world fellow, that he hit on a way of doing something about it.
In America and Europe, he learned, polluters had been forced to clean up their act by governments that passed and enforced laws, and by individuals who took persistent violators to court.
---