Jean Enock Joseph teaches self-help to lift Haiti
Pastor Jean Enock Joseph doesn't shy from Haiti's toughest problems. His message: Haitians have the ability to help themselves.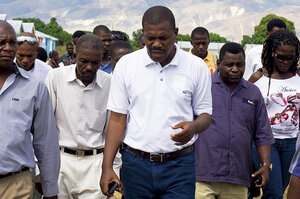 Ed Stocker
Jean Enock Joseph is a born storyteller. Seated behind a desk at his office in the Haitian capital, Port-au-Prince, he energetically waves his hands as he explains his work. Mr. Joseph clearly has endless enthusiasm for his subject – powered by the raw energy of a reformer.
"With sheer willpower and hardly any means, we've built our projects on efficiency and vision," he says, his singsong French rising and falling with each sentence. "We've focused on inclusion, fairness, excellence, and making a difference. Those are our values – and we've produced results."
Pastor Enock (as he's better known) is an evangelical preacher, which goes some way to explaining his rousing speaking style. But he's also a passionate advocate of lay issues, such as access to education and housing, needs that continue to bypass large swaths of the population here.
RELATED: Top 5 Millennium Development Goal success stories
His day-to-day social work focuses on helping some of Haiti's most needy, in a country that remains the poorest in the Western Hemisphere.
Joseph was born and raised in Cité Soleil – the most notorious shantytown in Port-au-Prince – where many of his social projects are still focused. The area is renowned for gangs with various political allegiances and drug-related violence.
A bloody upturn in violence a decade ago was enough to convince the pastor that enough was enough.
---