Five poverty-fighting women to watch
(Read article summary)
These women don't hand out aid. They're creating innovative new ways for women – and men – to lift themselves out of poverty.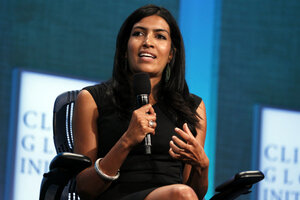 Lucas Jackson/Reuters/File
These five women are fighting poverty in a serious way, but they're not handing out aid. We hope to see them scale up their models this year and make an even bigger impact.
Leila Janah – Leila knows that what poor people really want is a job: steady income that pays for food, school, and medicine. But American companies that "outsource" work to poorer countries aren't exactly popular right now. To Leila, the concept of "microwork" isn't exactly outsourcing, either. She founded Samasource, a social enterprise that takes simple, computer-based tasks from companies like Intuit, Google, and LinkedIn and turns them into jobs for poor people in places like Kenya, Haiti, and India. These are tasks that would have been done poorly by a machine or not at all. For example, tagging user-generated content would be difficult for a computer, but the job also wouldn't pay enough for a US employee to make a comparable living. For Haitians who typically make $1 or $2 a day, a job that pays $5 a day can make all the difference in the world (and can buy a lot more in Port-Au-Prince, Haiti, than it can in New York City). Starting the year with a fresh grant from Google, watch Leila and Samasource scale the model this year. You might just see a meaningful way to reduce poverty and people rethinking what "outsourcing" means.
---