In rural Cambodia, water pumps help farmers help themselves
(Read article summary)
Paula Shirk, founder of Brooklyn Bridge to Cambodia, tells of a grass-roots approach to helping poor farmers irrigate their fields.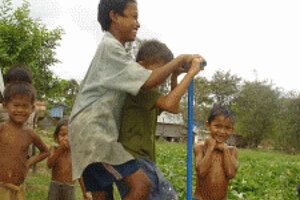 Courtesy of Dowser.org
Lack of access to water is a crucial roadblock in the path from poverty to wealth for many rural societies. Without irrigation techniques, farmers must rely on rainfall that may only come a few times a year.
Brooklyn Bridge to Cambodia (bb2c) works in a poor rural region in Cambodia, where farmers rely on rain or the arduous and inefficient process of hauling buckets of water in order to produce crops. Bb2c is selling pumps made by Kickstart that gather water 21 feet down. But furthermore, bb2c is motivated by a grassroots approach to poverty-alleviation that strives to put the tools for development into the hands of the people who will use them to benefit themselves.
Dowser: How did you determine the need for the water pumps, and why Cambodia?
Paula Shirk, founder: I have an adopted boy from Cambodia and when I went to pick him up I was given a picture of his birth family. Over a year and a half I located his family. They were homeless and had no food. And I never gave them money but instead I gave them tools. I gave them a motor scooter so they could get their fish and vegetables home from the market. Then I gave them a cow. The family never asked for anything, but they really used these tools to get on their feet.
Once you help a family, you're sort of into helping the village. I had to do a 37-page application with Heifer International and they turned me down, and told me to resubmit. But then I heard a Podcast that was talking about this guy Paul Polak [who wrote the book Out of Poverty]. The Podcast said two really important things: one is that to get out of poverty you need access to water. The other is that the local people have to be in charge of their own development.
---