In business or philanthropy, the key is treating people as valued 'clients'
(Read article summary)
Selling inexpensive products in the developing world is one way to lift living standards. But whether it's capitalism or philanthropy you've got to listen to and involve your customer.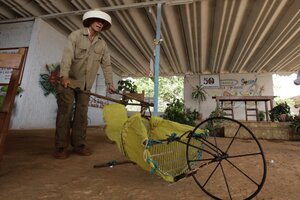 Desmond Boylan/Reuters
Can manufacturing products for the developing world be a helpful way to lift people out of poverty? Can impoverished people become lucrative customers?
Recently, Miller-McClune posted an article called "Save the Poor by Selling Them Stuff – Cheap." The article covers a business class taught by Stanford Professor Jim Patel, in
which students design a product intended to help the developing world, then sell it to the people in need. The article explores the question of whether this can be an effective way to address global development. Can making a profit and helping others coexist? Should it replace traditional philanthropy?
Here's my response:
Selling products to the impoverished community is a wonderful idea and part of a grander plan: a plan to help obliterate poverty, by engaging the community with entrepreneurs.
The ideas here hold great power; and how they are executed will hold incredible importance. What I love and recommend is exactly what the students are doing, at the inception: they are going into the community, caring, listening, and establishing a true understanding of the community's needs. That's all good.
This process then needs to be taken further. When the students return to the lab, the ideal process is that one – at least one – of the villagers comes with them.

Villagers need to be a continuing part of the design of the product, an official part of the product design team. This means from Day One until completion. And when the product is implemented, they are the key point people that inform the other product designer of any improvements or changes. What is not working structurally? Is it due to material conditions, such as weather, climate, soil? Or equally important is it due to cultural ramifications where the product might violate an important part of the rituals of the community?
---