Tracy Kidder: can a writer be a social activist?
(Read article summary)
Prize-winning journalist Tracy Kidder wrote a popular book on social activist Paul Farmer. But how involved should he have become in promoting Farmer's work?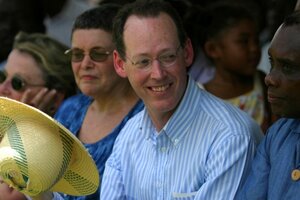 Ana Elisa Fuentes/ZUMA Press/Newscom/File
Can writers promote causes for social change, and should they? Tracy Kidder is author of numerous essays and books of fiction and nonfiction, and is recently best known for Mountains Beyond Mountains, his story of the life and work of Paul Farmer, founder of Partners in Health, an organization working in global preventative health care. Below, Dowser talks with Mr. Kidder about what drives him to write about passionate figures, how he builds empathy in his books, and how to work with "the problem of goodness."
Dowser: How did you start writing? How did you start writing nonfiction?
Kidder: I discovered I wanted to be a writer in college. I fell under the spell of a wonderful teacher, Robert Fitzgerald, who took us very seriously and was demanding. I didn't know what else I was going to do exactly after college. I went to Vietnam as a soldier, came back and wrote this novel about all the experiences I didn't have.
---