A new way to measure human rights may revolutionize global advocacy
(Read article summary)
The SERF index, a new way to measure human rights in a country, may provide a more accurate assessment of a country's human rights effort.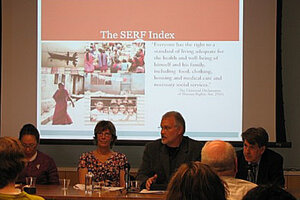 Courtesy of Dowser.org
In 1948, the United Nations passed the Universal Declaration of Human Rights in the hopes of creating a world in which individuals lived without oppression. In the decades that have passed, human rights advocacy has grown into a worldwide community of organizations, academics, and think tanks.
But the task of protecting and improving human rights faces numerous challenges: the problem of using standardized indexes to measure rights in highly heterogeneous cultural and national contexts is one. And for many human rights scholars, the tendency to concentrate advocacy efforts on political and civic rights, like the right to vote or the right to a fair trial, rather than social and economic ones, like the right to education or health care, is another significant limitation.
A small group of scholars based at The New School in New York City and the University of Connecticut, with support from the Social Science Research Council, have created what they hope will be a more rigorous and globally applicable human rights index that focuses on social and economic rights, called the SERF index. The Economic and Social Rights Empowerment Initiative launched the index on May 13, in a public panel at New York University's Institute for Public Knowledge.
The SERF index aims to break away from other rights indicators by accounting for not only the rights-bearers, but also duty-bearing state governments. Focusing on the "core rights" of adequate housing, education, food, healthy, work, and social security, SERF takes a substantive and contextual approach that asks, firstly, the extent to which a nation's people are enjoying these rights and, secondly, the extent to which countries are feasibly obligated to fulfill these rights.
---