Putting pizzazz into pet adoption
(Read article summary)
Adopt & Shop flips the somber animal shelter into a snazzy pet boutique.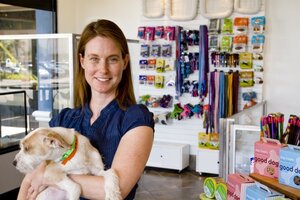 Courtesy of Found Aniimals Foundation
Some 5 million to 7 million dogs and cats arrive at animal shelters across the United States each year. Roughly two-thirds of them never leave alive, according to the American Society for the Prevention of Cruelty to Animals.
The problem is supply and demand: too many unwanted pets and not enough people willing to adopt.
A nonprofit group in southern California is trying to apply some innovative solutions to both challenges.
Idea No. 1: Employ a little marketing magic.
In April, the Found Animals Foundation opened what it hopes will be the first of many Adopt & Shop pet stores. Located in the Lakewood Center Mall in middle-class Lakewood, Calif. – near Costco, Target, Nordstrom, and a movie theater – it's an animal shelter disguised as an upscale "pet-adoption center and pet supply boutique," says Aimee Gilbreath, executive director of Found Animals.
---