Food gardens at Cape Town area schools grow food and teach farming skills
(Read article summary)
The SEED Organic Classroom Programme at 21 South African schools teaches sustainable farming techniques while feeding students.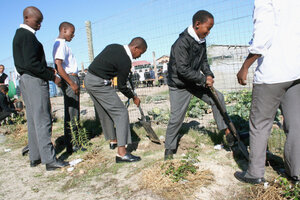 Matt Styslinger
Southeast of central Cape Town, South Africa, is a large, flat swath of land known as the Cape Flats. The area is home to around 4 million people and unemployment is around 40 percent. As many as 25 percent of students in the Cape Flats are undernourished.
South African non-profit organization School's Environmental Education and Development (SEED) has established its Organic Classroom Programme in 21 Cape Flat schools. The project aims to improve food security in the Cape Flats by engaging students in environmental sustainability and teaching them how to practice permaculture – a holistic agriculture system that mimics relationships found in nature. SEED's Organic Classroom Programme is a winner of the 2010 Sustainability Awards presented by Impumelelo – an independent awards program for social innovations in South Africa.
"Permaculture looks at ecological habitats and applies them to human habitats," says SEED permaculture designer Alex Kruger. Ms. Kruger says that sustainable food gardening is a starting place for students to learn about larger environmental sustainability issues. "It addresses an immediate need. And it also brings biodiversity back into these schools, which are quite barren," she says.
The Cape Flats environment can be harsh on crops. Soils are sandy and high winds are prevalent. But by planting windbreaks around the perimeter of food gardens, planting in formations that channel rainwater to crops, and adding organic compost, SEED is encouraging students to take on the challenge of growing their own food.
---