Hatua Likoni offers scholarships and mentors to Kenya's students
(Read article summary)
The nonprofit supports Kenyan students who need mentoring or lack the means to pay for school. The next problem to solve: 9,000 desks for 14,000 students.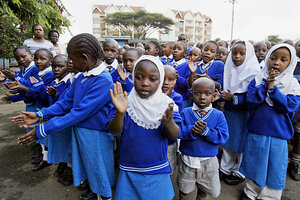 AP Photo/ Sayyid Azim/File
In the United States, education has long been considered an equal rights issue – something that should be accessible and free for all. But elsewhere, formal education has only recently been recognized as an essential component of citizenship that all people should enjoy regardless of income.
In much of sub-Saharan Africa, for example, education was historically associated with the colonial elite, which meant the majority of the population didn't have access to schools. That's changing – but slowly.
After studying abroad in Kenya during her junior year at Wesleyan, Gabrielle Fondiller founded Hatua Likoni, an organization that helps students pay their school fees through scholarships and provides mentoring to get them into college. Starting with seven students in 2007, the program now supports 76 young Kenyans in the Likoni region and has a staff of local mentors who work with the students to keep them motivated in an under-resourced education system.
Dowser: Why do schoolchildren in Kenya have to pay school fees?
Gabrielle Fondiller: Until 2002, there was no free education in Kenya. Because of international influence, the government instituted free education in 2002, but it's incredibly underfunded. And now, it's receiving less funding because there's been scandals and corruption in the Ministry of Education.
So, there isn't money to institute free secondary education – yet. But there is effort to reduce the cost of government secondary schools. For some families, it's not outrageously expensive, but for some it's unaffordable.
How do you fund the program?
We have some support from foundations and corporations, and mostly individual donors in the United States. [It happened] mostly through networks: meeting people who then introduced me to people. Talking to people and explaining the story. Once you build a connection with someone it's easier to interest them.
---