Navyn Salem manufactures success by helping to feed the world's hungry
(Read article summary)
Her nonprofit Edesia produces Plumpy'nut, a nutritious paste rich in calories and vitamins.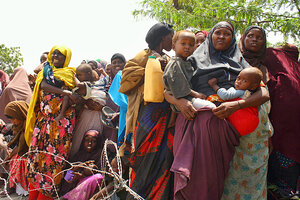 ABDURASHID ABDULLE/AFP/Getty Images/Newscom
In 2009 Navyn Salem founded Edesia, a nonprofit company based in Providence, R.I., that specializes in producing Plumpy'nut, a high-calorie edible paste made of peanuts that is rich in vitamins and provides nutrition to starving children.
By way of background, can you talk about why you founded Edesia and how you decided to focus your efforts on producing Plumpy'nut?
Navyn Salem: When I first started, I was certain of one thing: I wanted to have a big impact on children but get there by using a smart business approach. For over a year, I traveled, consulted, and spoke with some of the most amazing development and global health leaders to gather ideas.
Edesia was created with the purpose of creating jobs and contributing to economic development as well as having a social mission that contributes to a global health challenge. We first got started with this model in Tanzania, where 38 percent of the population is stunted due to malnutrition. Most of the raw materials needed to make Plumpy'nut are available locally and products were being imported from France.
We began back in 2007 to develop this project, and our factory there called Power Foods has been operational since December 2010. They can now produce enough Plumpy'nut to fulfill the demand in Tanzania and some of the bordering countries.
---