Ghana schoolboy launches his own Somalia famine fundraiser
(Read article summary)
An 11-year-old boy in Ghana, Andrew Adansi-Bonnah, has started his own effort to raise millions of dollars to help hungry refugees in Somalia.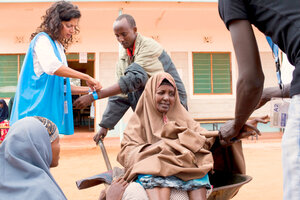 Brendan Bannon / Polaris
[Editor's note: InterAction, a coalition of American humanitarian aid organizations, provides a list of more than 45 reputable groups responding to the drought and famine crisis in Somalia and the rest of the Horn of Africa. It also provides suggestions on the best ways to help as well as additional information and resources.]
As international aid agencies scramble for donations for East Africa's famine victims, one multi-million-dollar fundraising drive has come from an unexpected source: a West African schoolboy.
Andrew Adansi-Bonnah is 11. And during his eight-week school holiday, he wants to raise 20 million Ghanaian cedis — or about $13 million — for his cause by walking office to office collecting donations in Ghana's capital, Accra.
Since starting the drive Aug. 1, he has collected about $6,500 in pledges for the fund he started after consulting with UNICEF and the U.N.'s World Food Program. His father, schoolteacher Samuel Adansi-Bonnah, donated his entire July salary of about $500.
Andrew said he was inspired by images of skeletal babies and stick-thin children he saw on television, which led him to name his campaign Save Somali Children from Hunger.
"There are hungry people in Ghana but our situation is not as desperate as the people of Somalia," said the skinny, soft-spoken boy.
---