Restaurateur provides a waystation for North Korean defectors
(Read article summary)
Restaurateur Dan Kang runs the Seoul City Mongolian Grill, which trains North Korean defectors in the restaurant industry. The long-term goal: Return them to the north after Korea reunifies.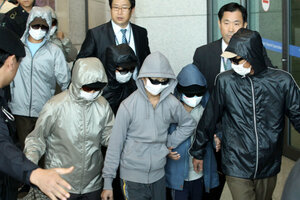 Yonhap News/YNA/Newscom
Most nights, service industry veteran Dan Kang arrives home around midnight, stopping off on the way to shoot a merciful game of pool or two.
The moments he spends poised with pool stick in hand are practically the only slivers of time he has to himself all day, a chance to unwind.
These days, Mr. Kang is the managing partner and executive chef at a restaurant that has more than the needs of its brimming clientele to contend with: Its very raison d'être is to empower North Korean defectors who have successfully completed the perilous journey from their homeland to South Korea.
Micro-economic efforts like the Seoul City Mongolian Grill in Ansan, a southern suburb of Seoul, occupy a vacuum that desperately needs filling, advocates say.
Though North Koreans who arrive in the South receive classes in cultural adaptation and a resettlement allowance, once they are let loose into society many cannot cope psychologically with their new, markedly different environment.
The unemployment rate among defectors from the isolated communist state was found at one point recently to be four times higher than the national average. Suicide rates tell a similar story. Defectors are two-and-a-half times more likely to take their own lives than native South Koreans, according to one set of statistics.
North Koreans in the South, Kang says, are often ostracized and stigmatized for coming from what is seen as a dirt poor, backward country.
This is where grass-roots enterprises like his Seoul City Mongolian Grill – which was set up to help provide defectors with financial assistance and jobs – come in.
The idea for the restaurant came from founder Simon Suh, a pastor at the church Kang attends in Ansan. After enlisting Kang, he embarked on a crusade to arm defectors with not only a salary but skills that one day can be taken back to the North under a reunified Korea and used to build the economy there from the ground up.
---