ICNL wins $1 million MacArthur Award to promote freedom of assembly around the world
(Read article summary)
The ICNL(International Center for Not-for-Profit Law) received $1 million from the MacArthur Foundation to advance its mission of creating a legal framework for the right of assembly and association in countries around the world.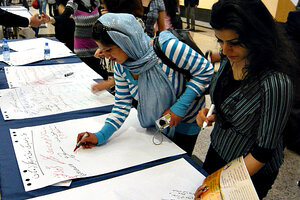 ICNL
What the work boils down to is this: promoting freedom of association and assembly. How it's done: by helping groups design laws that protect these freedoms.
"In too many countries we find that the legal framework actually restricts the ability of individuals to gather together to try to improve their societies," says Douglas Rutzen, president of The International Center for Not-for-Profit Law (ICNL) in Washington D.C. "We see in country after country the rights that we might take for granted in the United States are restricted."
The ICNL now works in more than 100 countries helping to establish the legal framework for enhancing individual rights. Last week the John D. and Catherine T. MacArthur Foundation named the ICNL as one of 15 organizations in six countries that are receiving the MacArthur Award for Creative and Effective Institutions. The ICNL will be awarded $1 million. (A list of all the winners is here.)
Among the ICNL's accomplishments:
• Helping to organize a coalition of more than 7,000 organizations in Iraq to pass a law that supports freedom of association and assembly.
• Creating the idea for and helping to establish the first United Nations Special Rapporteur on the freedoms of assembly and association. A UN resolution was adopted in September 2010 and the UN Special Rapporteur now works to defend freedom of association and assembly around the world.
---