Despite $1.5 billion in US aid, Egypt threatens prosecution of Americans
(Read article summary)
Egypt said yesterday it will prosecute a large number of people, including 19 Americans, involved in democracy promotion in the country, putting the country's US aid in extreme jeopardy.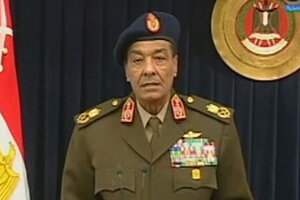 Egypt TV/REUTERS
When Egypt raided the offices of American democracy promotion groups in December, warnings poured out of Washington: "Your $1.5 billion in annual aid isn't as sacrosanct as you think it is."
But Egypt has consistently upped the ante with the administration in this confrontation. The latest move came Sunday, with the military junta deciding to put 40 employees of these and other democracy promotion groups on trial – including 19 US citizens. Sam LaHood, the son of President Obama's Transportation Secretary Ray LaHood, is one of a group of Americans currently living in the US Embassy to avoid arrest.
Mr. LaHood and a few of the other officials targeted by Egypt, which says it is investigating illegal foreign funding to political groups, have been barred from leaving the country. The threatened prosecutions are focused on 10 foreign and domestic groups, among them the International Republican Institute (IRI), the National Democratic Institute (NDI), and Freedom House, all heavily financed by US taxpayers.
---