In India, 'paraskilling' creates new jobs by slicing old ones to bits
(Read article summary)
India uses 'paraskilling,' dividing tasks into jobs requiring more or less skill, to create new job opportunities and increase productivity.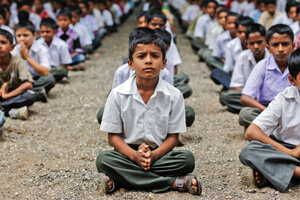 Danish Siddiqui/Reuters/File
How can you reduce surgery costs while boosting local employment? Paraskilling, that's how.
The paraskilling framework is as old as the assembly line, but it's got a new modus operandi.
By re-engineering complex systems into simplified tasks that can be performed by a larger, lower-skilled workforce, an organization is able to cut its greatest cost: highly skilled workers. This creates a subsequent increase in development and employment in disadvantaged communities.
India provides two paraskilling success stories: the Aravind Eye Care System and Gyan Shala School.
Aravind Eye Care employs para-skilled paramedics to assist the patient through most steps of a procedure. The doctor is only responsible for diagnoses and surgery. Paraskilled workers then take over a wide range of clinical duties, such as outpatient care, counseling, operating-room assistance, and administrative staff. The result is a boost in community employment and clinical productivity. Aravind completes 2,400 surgeries per doctor per year compared to 300 in standard Indian clinics.
Gyan Shala shows us that applying paraskilling to the education system can also produce significant results.
The Gyan Shala education model has split the traditional headmaster/teacher hierarchy into three new roles: design-management team, senior teachers, and junior teachers.
The management team designs a standardized curriculum, adding extensive learning aids and lesson plans. High-school-educated junior teachers instruct, and senior teachers monitor junior teachers and their class.
Classes are generally located in one-room buildings close to slums, making them more accessible to needy communities. Because junior teachers are recruited from the area, staff have close ties with students and their families, hold themselves accountable, and take greater pride in their community. As junior teachers improve their skills, they have the opportunity to become senior teachers.
---