How India feeds 120 million kids a day
India is home to the world's largest free-lunch program giving many school­children across the country what may be their only hot meal for the day.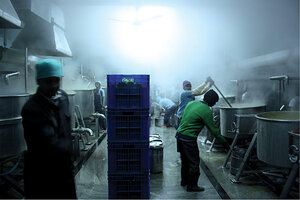 Ben Arnoldy/The Christian Science Monitor
Shamvir Singh says he downs a glass of milk before walking to school, but when asked what else he eats at home, the 12-year-old droops his head in silence.
He is embarrassed, but none of the other students who are crowded around him in the dusty junior high school courtyard tease him. Half of them, estimates the principal, only get one meal a day: the free hot lunch offered at schools around India.
"Children from very poor farming families now come regularly; they look forward to the meal," says Shiv Singh, the headmaster of the Shri Krishak school in Beri, a village three hours south of New Delhi. "They used to go off to help their parents farm."
Shamvir and his classmates squat in the dirt, watching as the sari-draped lunch ladies go down lines filling the metal bowls in front of them.
The Indian government provides free hot lunches to 120 million students a day, the largest school lunch program in the world. For comparison, the United States provided low-cost or free lunches to some 31 million children a school day in 2009.
The massive undertaking started as a flawed welfare program that has been improved with the help of a Hindu religious group teaming up with some of India's top engineers.
The reforms by the group, the Akshaya Patra Foundation, are expanding school attendance, cutting down on hunger, and, anecdotally, lifting caste divisions. Some of their innovations in food processing also hint at the potential for adding value to India's bountiful crops in ways that serve the poor who grow them.
Initially, under the national mid-day meal program, free grain was distributed to parents and school kids were sent home for lunch break. The problem: Many families sold the grain and the kids went hungry.
---