Franco Majok fled Sudan – but returned to build a school
(Read article summary)
Education helped Franco Majok escape from war-torn Sudan. Now his Village Help for South Sudan has built a school there – and more.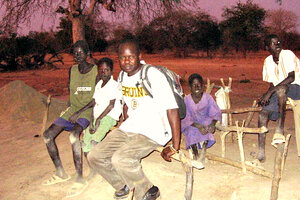 Courtesy of Ron Moulton
Franco Majok says his ability to read a map saved his life.
Mr. Majok, who serves as executive director of the organization Village Help For South Sudan, escaped from southern Sudan when he was a teenaged high school graduate. Knowing which direction to go and how to get to the northern part of Sudan was the most valuable skill he could have had, he says.
"I feel very strongly that education saved me," he says.
Today Majok's organization, Village Help For South Sudan (VHSS), has built a school in the village of Wunlang in the new Republic of South Sudan, which became an independent country last year. Between 600 and 800 boys and girls currently attend the school. VHSS also has built a water pump and a health clinic in Wunlang, and it has extended its projects to Thiou, another village in South Sudan. VHSS initiatives in Thiou and Wunlang include repairs to the Wunlang school, finding qualified teachers for it, and obtaining medical equipment for the Wunlang health clinic. VHSS would also like to build a multipurpose center where married women could come to learn farming and business skills.
Majok, who lives in Lynn, Mass., near Boston, was a high school student in southern Sudan in 1983 when the Sudanese government began interrogating those with an education, who were thought to be more likely to sympathize with rebels. Two of Majok's brothers had already left to join the rebel movement.
---