Nonviolent Peaceforce helps protect women, children in South Sudan
(Read article summary)
Brewing conflict with Sudan in the north, and Joseph Kony's LRA in the south, are just two of South Sudan's challenges. Nonviolent Peaceforce is working to protect the population, especially women and children, from these and other threats.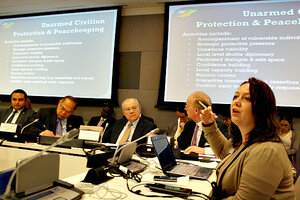 Doug Hostetter
With the threat of armed conflict with Sudan on its northern border, and Joseph Kony's Lord's Resistance Army (LRA) raiding its southern border, the new country of South Sudan – formed only last year – is facing a hard task in finding the peace it so desperately needs.
Nonviolent Peaceforce is quickly becoming a growing presence there among the international nongovernmental organizations trying to help. In just three years the Brussels-based NGO has grown to 65 people based in eight field sites around the struggling East African nation.
On the southern border with Uganda Nonviolent Peaceforce is working to assist those who flee from the LRA and those who live within striking distance of its forces.
RELATED: 7 excellent books about Kony and the LRA
Some of those conscripted into the LRA "have been gone for many years," says Tiffany Easthom, country director for Nonviolent Peaceforce in South Sudan in a phone interview. "We help them track their families."
---