Journalist Kevin Fagan looked for solutions to homelessness
(Read article summary)
His newspaper series on the homeless in San Francisco emphasized solutions – what really works and what doesn't. The result: constructive changes.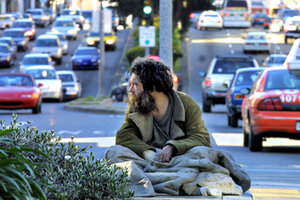 Susan Ragan/Reuters/File
Journalist Kevin Fagan spent months immersed in the homeless community in San Francisco for his "Shame of the City" series, which ran in the San Francisco Chronicle in 2003. The series not only documents the daily lives and personal struggles of homeless people and families, it also examines various existing and emerging solutions from a critical perspective, looking at what works and what doesn't.
Reflecting back on his extensive reportage on homelessness, Fagan explains how solution journalism can become an instrument for social change and directly influence policy. In the case of his series on homelessness, his reportage caught the attention of the city's mayor at the time, and prompted the creation of new social programs to deal with issues raised by the series.
Below is Fagan's conversation with Dowser on reporting on solutions to homelessness, and the particular obstacles involved in that kind of journalism.
QUIZ: Are you smarter than a Fox News viewer? How about a CNN viewer? Take our quiz to find out.
Dowser: Why did you become a journalist? What did you think you could achieve?
Fagan: I became a journalist after working on the school paper in high school. It was the only job I really wanted. My mother had been a Navy journalist and told me it was a wonderful thing to do. I felt like I could contribute to society. I could make change. I could make society smarter. I could inform them on serious issues to help people make informed decisions on how to make life better in our world. It's the old journalism adage of "comfort the afflicted and afflict the comforted." You want to give a full, unbiased view of what's going on, and hopefully people will make better decisions because of it. The other reason is that I like adventure; journalism is like being in an action movie all the time.
---