Community radio cuts disaster risk in flood-prone Bangladesh
(Read article summary)
Radio stations that broadcast in local dialects along Bangladesh's coast warn residents about storms and help farmers cope with erratic weather.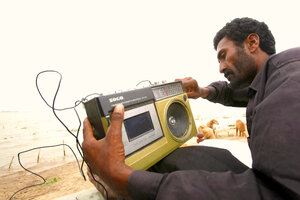 Akhtar Soomro/Reuters/File
New local-dialect community radio stations in Bangladesh's coastal districts are warning residents about cyclones and helping farmers cope with erratic weather patterns.
The new radio stations are part of an initiative to reduce loss of life and damage to livelihoods from natural disasters and unpredictable weather.
"The radio [stations], run with the active participation of local people, have already gained popularity and are telling people how to adapt to climate change impacts," said A.H.M. Bazlur Rahman, chief executive officer of the Bangladesh NGOs Network for Radio and Communication.
RELATED: Five worst floods in history
Approval was given for 14 community radio stations in coastal and inland areas in April 2010, and six are now broadcasting from coastal districts. A further 22 applications have been filed with the government. The stations are mostly funded by nongovernment organizations and individuals.
The radio programs focus primarily on disaster risk reduction and climate variability, Rahman said. He attributes their growing popularity in part to programs being broadcast in local dialects.
"People in the countryside, most of whom are illiterate, can easily understand weather bulletins and other instructions" when they are provided in local languages, he said.
During a tsunami watch in early April, in countries bordering the Indian Ocean, including Bangladesh, the new radio stations transmitted national weather forecasts in local dialects, said Manir Hossain, station manager of Lokobetar community radio, based in Barguna district in the south of the country.
"Through our programs we advised people what they needed to do for their safety during the emergency," Hossain said.
Although no tsunami took place, heavy rainstorms have struck Bangladesh as the rainy summer season commences, claiming at least 20 lives in April in different parts of the country.
---