Why resilience is the key to solving 21st century problems
(Read article summary)
Author and PopTech executive director Andrew Zolli says the ability of people and institutions to bounce back from challenges will be needed more and more. It can be learned, as he found out in his own life.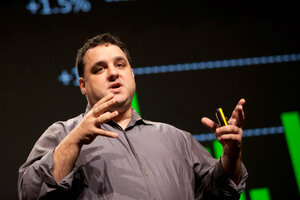 Kris Krug/PopTech
Resilience isn't something that Andrew Zolli just thinks about. It's something he's had to demonstrate in his own life.
In 2008 his close partner at PopTech, Tom LeVine, died suddenly. He and his wife lost a child in pregnancy. His mother suffered a serious illness.
"And then we had the global financial collapse. All at the same time," he recalls. "I've had rough times before, but I've never had anything that made me feel like I might run up against my ability to manage."
Mr. Zolli had been working on a book about resiliency. "I wrote this book at a time when it felt like it was raining hammers. I would show chapters of the galley to my wife who would say, 'You see what you said here in Chapter 3? Are you doing this? You need what you're writing about right now.' "
Zolli did pull through. Today he and his wife have two lovely children. He's still heading PopTech, which brings together a global community of innovators from many fields to share insights and work together to address world problems. And his book, "Resilience: Why Things Bounce Back," written with journalist Ann Marie Healy, was published this summer.
Resilience is the key to the world overcoming its severe economic and environmental challenges, Zolli says. It's what makes individuals, organizations, and cultures able to withstand hardships and recover.
A few years ago Zolli noticed "a new conversation" emerging among institutions such as the Rockefeller Foundation, the Bill & Melinda Gates Foundation, USAID, and the World Bank, "converging toward a conversation about ... how we build systems that can absorb disruption, because we're living in such a time of volatility," he says. He saw how the scientific study of resiliency, though still in its infancy, was already yielding useful insights.
---