Mobile, solar schools bring power to the powerless
(Read article summary)
Four examples show how solar-powered mobile schools can bring computer education to some of the world's poorest children.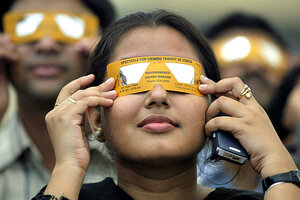 Jayanta Shaw/Reuters/File
Beep beep! For some students, hopping on the school bus is hopping into the classroom. Four communities are using solar-powered mobile classrooms to overcome inaccessibility to the power grid.
Last week, we looked at a bus in Chitradurga, India, that brought modern computer technology to students in energy-poor rural schools through solar power. SELCO, a private energy company, engineered the bus with 400 watts of solar modules, 10 laptops, fans, and lights.
Circumventing the area's erratic power supply with its solar panels, this bus provides much-needed modern computer education and exposure to the advantages of solar energy. Motoring through rural villages in Chitradurga since January 2012, the bus has reached "60 schools and 2,081 children," the New Indian Express reported in early September.
RELATED:Top 5 nations that use renewable energy
We found three more pretty exciting examples of solar-powered mobile schools that bring computer education to some of the world's poorest:
Bangladeshi floating schools
Where there's more water than land, boats replace buses, and with rising sea levels, low-income Bangladeshi students have difficulty getting to school altogether.
Pushed to inaccessible riverside settlements that lack basic infrastructure, students often can't get to school due to monsoon flooding. Shidhulai Swanirvar Sangstha, a nonprofit organization started by Mohammed Rezwan, rides the rising tides with his solar-powered floating schools.
Trained as an architect and personally experienced with soggy school disruptions in Bangladesh, Rezwan rode a brainwave that led him to floating schools. Combining the best of traditional boat design and modern sustainable practices, the organization's 54 boats have been operating since 2002 and have served over 90,000 families.
---