Four ways to help 'contract farming' benefit the very poor
(Read article summary)
Contract farming – an agreement between a farmer and a buyer – offers many benefits to small farmers if they have access to education and legal services.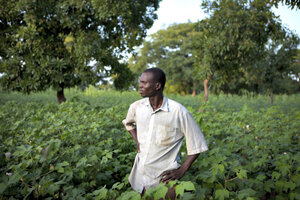 Joe Penney/Reuters/File
Will contract farming, done right, serve as the missing link between small farmers and markets?
Contract farming, an agreement between a farmer and a buyer, can offer many benefits to smallholder farmers. They guarantee a buyer and often provide extra perks like better access to yield-boosting inputs.
Anti-poverty organizations, as well as large grocery-store chains, are looking to contracts as a "win-win" solution that fights poverty while guaranteeing a reliable, year-round flow of organic and niche produce to national and international markets.
Here's the potential problem: Contract farming, in itself, doesn't directly reach or benefit the farmers who need help most.
Corporations view farmers at the bottom of the income bracket as liabilities — likely to fail in meeting obligations. According to a study last year by AgWater Solutions (pdf), contract farming "is unlikely to reach the poorest farmers … Schemes tend to select better-off farmers who can bear risks or pay an initial commitment fee."
Additionally, poor farmers are smallholder farmers. Corporations are less likely to enter a contract with farmers who own small tracts of land and who are scattered and isolated geographically — the transportation costs are too high and the communication too unpredictable and difficult.
Then there's the issue of power inequality and "information asymmetry." Small farmers who aren't members of a cooperative or farmer's association lack the bargaining power, lawyers, and sophisticated technology of big buyers.
---