Restoring US native prairies, acre by acre, yard by yard
(Read article summary)
Across the US Midwest, homeowners are restoring their yards and former farmland to the native prairie that existed in pre-settlement days. The benefits can be substantial — the need for less water and no fertilizer, and an ecosystem that supports wildlife.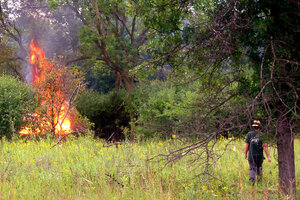 Andrew Stern/Reuters/File
David Read is a big guy, six-foot-two, but the grass behind him inches above the crown of his khaki fisherman's hat. He gestures off toward his house across a swishing, dancing expanse of stems, leaves, and early-autumn wildflowers, and smiles. "We wanted to sit on our back porch and watch grass swaying in the wind," he says. Which is exactly what it's doing this September day, finally.
It wasn't always so. In the 1990s when he and his wife, Alisande, bought this property, 38 acres in exurban Dexter, Mich., it was fallow farmland slowly succumbing to invasive shrubs. In 2003, after retiring, they set about restoring 11 acres of it to native prairie.
Read has done most of the work himself, at times putting in 20 hours a week or more lopping and herbiciding weedy brush, as well as seeding, mowing, and burning. He estimates they've spent nearly $15,000 on seed, equipment, herbicide, and some outside help. He might be a little nuts, Read concedes, but if so, he has a lot of company throughout the US Midwest and Great Plains.
Prior to settlement by Europeans, prairie blanketed an enormous swath of central North America, from Canada south to Texas, and from Indiana west to Colorado — nearly 600,000 square miles of grassland all told. This complex ecosystem was home to a diverse and teeming web of life, including now-tattered bison populations. Farming and development have reduced much of this iconic American landscape, particularly in the wetter eastern areas. There, tall-grass prairie, a habitat dominated by grasses that can grow eight feet high, now occupies less than 1 percent of its former range, putting it among the world's most endangered ecosystems, according to the US National Park Service. In the central prairie zone, so called "mixed-grass" ecosystems have suffered similar losses, while in the drier, less populous West, short-grass prairies have fared better.
---