'Solar Mamas': Barefoot College women turn on the lights in off-grid villages
(Read article summary)
Besides learned to install and repair solar equipment, rural women at India's Barefoot College can learn about clean water, health care, handicrafts, communication, and more.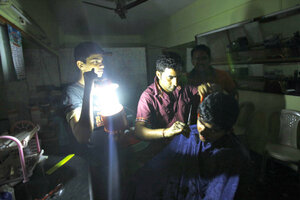 Rafiq Maqbool/AP/File
"Train a grandmother, change the world" – so says Barefoot College's motto. This school says nobody's better suited to bring solar power to the rural poor.
Last year, the New York Times reported on the unlikeliest of heroes: African women who travel to the Barefoot College in India to learn to become solar engineers. This year, a BBC documentary Solar Mamas recounted the story of one Bedouin woman who makes the trek from Jordan and eventually electrifies her village and her life.
The video, which aired on PBS Nov. 5, depicts the hurdles one rural woman faces in pursuit of educating herself and bettering her community. Extrapolate this story to the 700 stories from women across the globe and the map of impact is impressive.
Founded in 1972 on Ghandian principles of grass-roots change, Barefoot College is the brainchild of Bunker Roy. The NGO is built around a crucial insight that rural women are less likely than men to leave their families and communities, and more likely to implement the knowledge and skills they learn at school. Solar electrification is only one area of training; others include clean water, education and livelihood development, health care, rural handicrafts, and communication.
Although Roy never envisioned the college to expand beyond India, the Sierra Club reports that "since 2004, the Barefoot College, in Tilonia, India, has trained ... illiterate and semi-literate women from rural, unelectrified villages in 41 [now 48] countries to be solar engineers."
---